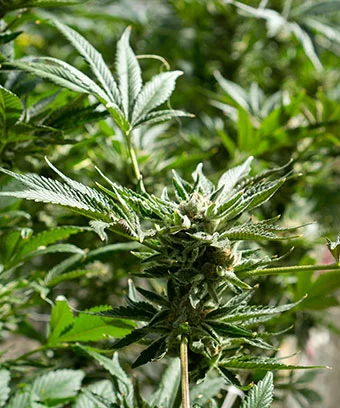 "Let me show you a super frosty one," a Mr. Feeny lookalike tells me.
It's a rare cloudy day in Willcox, Arizona (population: ~3,500), and Feeny — real name, Tony Stevens — is leading me through a massive 325,500 square foot greenhouse of which he is the director of agricultural operations. We're on the hunt for a particularly picture-worthy blossom aggressively speckled with little white pustules of oil, the aforementioned "frost," and some dozen rows later, we spot it. "This one here smells like cherries," Stevens says, and sure enough, if you lean in close, you get a whiff of fresh stone fruit. The smell is entirely unlike the skunky scent of marijuana that I'd grown so accustomed to from college and living in New York City. This shouldn't come as a surprise. We're a world away from a dorm room and instead at The Pharm, a massive emporium dedicated to the art and big business of growing cannabis.
ADVERTISEMENT
Housed on a 67-acre plot of land, The Pharm was acquired by cannabis company Sunday Goods in 2016. The goal: Turn an old tomato and cucumber greenhouse into a direct source for premium marijuana, use the accompanying 34,000 square feet of manufacturing space for research and development, and create one of the most successful vertically-integrated weed companies in the country.
Looking at the sheer quantity of marijuana in The Pharm, it seems like Sunday Goods is well on its way to meeting its goal. Last year, the greenhouse produced 40,000 pounds of cannabis. This year the greenhouse is expected to produce 45,000 pounds. If you do the math, that much weed would roll roughly 40,800,000 joints.
"If you do the math, that much weed would roll roughly 40,800,000 joints."
Of course, Sunday Goods is not selling 40 million joints a year. Instead, that 45,000 pounds of marijuana will be sold in Arizona wholesale, as "popcorn" (grade B buds), as extract, or in their line of Instagram-friendly products. This last section seems to be the key to serious growth and expansion. Sunday Goods' focus is on products that not only appeal to potheads of the past but also of the future — and that future is seemingly female. Marketing to include women is a no-brainer given the numbers; one survey from 2017 found that 53% of women smoked marijuana, compared to 42% of the men who responded. But how Sunday Goods is appealing to this market is seemingly through another, highly-profitable industry and buzzword: Self care.
ADVERTISEMENT
Hence the name Sunday Goods, a counterbalance to the Instagram-ubiquitous Sunday scaries. And hence the design-friendly lineup: Instead of the mysterious chocolates and questionable rice krispies treats of yore, Sunday Goods has lemon rosemary hard candies and pretzel-speckled milk chocolates, with 5 mg and 10 mg of THC, respectively. There are THC-laced lavender-colored bath salts and pink bath bombs and pearly white and gold vape pens. And forget the eyesore of plastic canisters; actual bud is sold in chic amber jars labeled "Sunday Flowers." The entire line feels like what would happen if Glossier met Aesop and decided to get customers high.
It must be said, though, that Sunday Goods' origin story is a fairly conventional one. In 2015, startup founder Yoram Heller expressed interest in working in the cannabis space after selling his first venture, tech company Morphlabs, while also growing his family business Intercare Therapy. In a strange twist of fate (or perhaps, an indication of the societal circles that spawned Sunday Goods), a former tour manager for Metallica introduced Heller to Randy Smith, who was working at cannabis consulting company 4Front Advisors at the time. In short, a business guy met a cannabis business guy, and by 2016, the two had raised $10 million to buy The Pharm for their new company Sunday Goods.
The co-founders subsequently tapped branding company Gin Lane (client list: sweetgreen, Recess) to help build out their brand, and fully leaned in to creating a company that positioned marijuana as not just fun, but also good — for the soul, for the mind, for the self — mirroring the messaging of brands like Lululemon (with its Selfcare beauty line), Lush (with their emphasis on natural products), and even Gwyneth Paltrow's Goop.
ADVERTISEMENT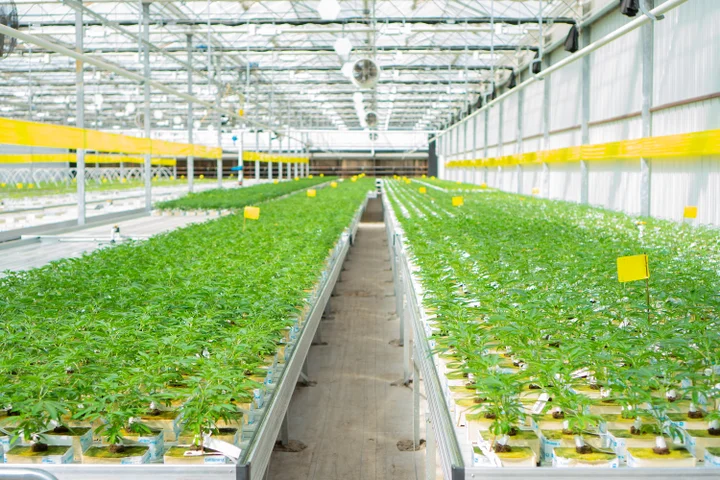 It's tricky when the federal government doesn't necessarily see it that way. Despite a rash of states recently decriminalizing marijuana, cannabis is still federally considered a Schedule 1 drug (alongside heroin, LSD, and ecstasy). According to the United States Drug Enforcement Administration's website, marijuana has "no currently accepted medical use and a high potential for abuse," and the sale and use of the drug is still very much illegal in the federal government's eyes.
So even though Sunday Goods is based in Arizona, where marijuana is legal for medicinal purposes, operating nationally in this pseudo-legal drug realm poses a gauntlet. The company, and other similar producers, can't ship their products across state lines; that would be drug trafficking. Banking weed profits can technically be considered money laundering; many national banks straight up refuse to work with cannabis-related companies. Businesses like Sunday Goods are forced to convince smaller, more adventurous banks to work with them, and/or deal primarily in cash. On top of all of that, weed-related businesses then have to pay taxes on the entirety of their revenue, thanks to Section 280E, which prohibits them from taking any tax deductions (such as operating expenses). So yes, in case you were wondering, places like Sunday Goods do pay taxes, and they pay a lot.
Regardless of these hurdles, however, entrepreneurs across the United States are jumping at the chance to make it big in the wild west of weed. According to Fortune, weed-related companies in America raised approximately $13.8 billion in investments last year, almost quadrupling 2017's number. And a few companies are already proving to be financially worthwhile. There's MedMen, with its Apple-like stores, which signed to acquire medical marijuana provider PharmaCann for $682 million in 2018. Cresco Labs in Chicago reportedly agreed to pay $850 million for Canada-based but California-centric Origin House.
ADVERTISEMENT
Sunday Goods, which has privately raised some $45 million, seems to combine the cannabis' business potential with the boom of self-care (an industry often cited with a $10 billion future value). You can see this strategy beyond the product and in the retail experience, as the company plans to expand in Arizona with both everyday retail dispensaries as well as a highbrow flagship experiences. Think Starbucks Reserve but with weed, complete with Instagram backdrops and coffee shop coworking spaces. It's a far cry from the somewhat outdated stereotypes of shady home deliveries and dark, dingy dispensaries, and might be an instrumental step in getting new customers (including female customers) through the door.
"The act of buying weed, especially in a non-legal market, can be intimidating, more so for a woman," Anna Ho, Sunday Good's director of (business) growth says. "We're disposed to not want to contact a stranger and meet up in a semi-private place. One of the cool things about legalization is that it creates a space that is more welcoming to women, where people who are new to the industry might find it less intimidating to consume."
So when the first Sunday Goods flagship store opens in Arizona in 2020, the space will mix community and commerce by including a bar and cafe, a second-floor art gallery, a sculpture garden, artist studios, and a drive-thru. They've chatted about collaborating with buzzworthy names like Stumptown or Ohio-based Jeni's Ice Cream to take over adjacent spaces in smaller "premium" shops.
ADVERTISEMENT
"Traditional estimates say [the industry will grow] to $80 billion, but I personally think that's light. It doesn't take into account what I think is going to be a conversion factor," Smith says. If the weed dispensaries of the future feel more like The Wing than a college bro's basement, well, yeah, conversion might be higher than expected.
"The weed dispensaries of the future feel more like The Wing than a college bro's basement."
And then there's The Pharm, which might be the company's final step in rebranding marijuana from illegal shady substance to dreamy, Instagrammable self-care product. Not only does growing in a greenhouse decrease the cost of producing weed (The Pharm sits on a geothermal well and produces marijuana at around $230 a pound, compared to what indoor growers might grow at $900 a pound or so, Smith says), it also gives the company a farm-to-table angle, a place where they can test strains while touting transparency in their sourcing.
This is why Sunday Goods hired seasoned marijuana grower Sjoerd Broeks to helm the greenhouse, alongside our Feeny-lookalike Stevens. The manbun-sporting Broeks and bespectacled Stevens make a surprising pair, but the two have surprisingly complementary backgrounds. Broeks, a 44-year-old raised by cannabis growers and Doberman breeders in the Netherlands, made his name in the industry as the head breeder for seed-supplying company Flying Dutchmen Seed Co. Sixty-one-year-old Stevens, meanwhile, has 20 years of experience running large-scale cucumber and tomato greenhouses.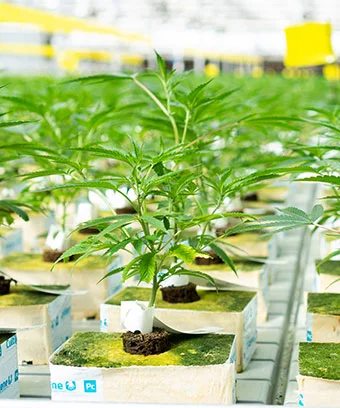 With Broeks and Stevens, Heller believes the greenhouse and production facility could become the "Blue Hill at Stone Barns of weed." (In an Esquire article last year, Smith compares their marijuana to heirloom tomatoes.) At the time of Refinery29's visit, the team was not only cultivating Cherry Punch (the bud that smells like cherries), but also Headbanger, a sour limey version, Old Dirty Diesel, which smells like "funky sweet rotten fruit," plus some 60 other strains at any given time. The Sunday Goods team talks about marijuana strains the same way wine snobs talk about grape varietals and craft beer geeks namedrop hops.
ADVERTISEMENT
"The consumer goes in right now to buy cannabis, and they're like, red or white?" Smith says. "They're not like, 'I like Malbecs and Pinot Noirs.' We're so far away from that, but that's where we see it heading."
Granted, there's still a ways to go before the market becomes that discerning. In fact, there's still plenty to do before the company can go national in a big way. "Launching in a new state is like launching in a new country; all the laws are different," Ho says. "None of the infrastructure is there. It's like you're on a boat, and you're trying to build that boat while sailing that boat while also trying to hit a moving target."
Nevertheless, Sunday Goods debuted in California last year, albeit without their own greenhouse to supply them. And in case you were wondering, the same elements of self-care dot their California line, too. The company launched its "effect pens" in April, a line of metallic pastel disposable vape pens that incorporates elements of aromatherapy. Their effects? "Rest," Spark," and "Soothe," to name a few. Pair with a bubble bath and a book.
Travel and lodging for this story was provided by Sunday Goods. However, Sunday Goods did not approve or review this story. Refinery29 in no way encourages illegal activity and would like to remind its readers that marijuana usage continues to be an offense under Federal Law, regardless of state marijuana laws.
THE MILLENNIAL MARKETING OF WEED AS SELF CARE
ORIGINALLY PUBLISHED ON AUGUST 28, 2019, 8:00 AM
WELLNESS • THE LATEST • MARIJUANA & CULTURE